WOW.
As a TV nerd and a diversity nerd, I am pretty blown away by last night. When Best Male Actor in a Comedy is a category that includes, among six nominees, two African American actors, one Indian American actor, and a guy playing a post-transition transgender woman, it makes me proud of where we've come in the entertainment industry. Not to mention the two big winners of the night, The Handmaid's Tale (Hulu) and Big Little Lies (HBO) are stories that focus on the lives of women.
YES, AMERICA. YES!
Also, if you haven't watched those two series, you need to GET ON IT. Those are two of the best things I've seen on television in a long time, and well worth the time you'll sink into them.
But kids, we're not here to discuss how far we've come in creating diverse television. We're here to rip some fashion.
LINE 'EM UP!
FETCH.
Can someone be deemed "fetch" just because of their bone structure? Because DAMN. Also, I really like this dress (even if the neckline is just a teeny tiny bit too wide for me).
I am so over the "sheer overlay/nude shell" look, but Michelle Pfeiffer is serving some chic pre-Halloween witchiness and I'm here for it. It just works.
The children are slaying. I think that dress is perfection on her and the boys are GIVING ME LIFE. Look at those jackets, people!!
I don't watch Blackish, so I wasn't sure what show this chick was on, but OMG. I think she might actually win the night for me. This is so ethereal and gorgeous.
Now listen. I'm not saying this is my favorite dress of all time, because it's certainly not (slits up to here, sheer/non-sheer, sparkles...there's a LOT going on). But when a woman who is an "untraditional size," whatever that means, looks and feels this good on the red carpet? Fetch. All day. Christian Siriano, you have found your calling. She is absolutely glowing.
...will always be on the Fetch list. The End.
I'm not even gonna pretend like the lower half of this dress isn't problematic, ill-fitting, and unflattering. 'Cause it is. But Kate McKinnon traditionally doesn't have the greatest track record on the red carpet, and she won some Emmys for being a badass, and from the waist up we're calling this a win. Go, Kate!! Take it and run! (BTW - my husband has an absolutely enormous crush on Kate McKinnon. He saw her in this dress and said she looked, and I quote, "So great." Kate, you're wrecking my marriage.)
The boobs are a lot. Let's just get that out of the way. But like, the hair. The lines on the dress. The fit of the bodice. I may be in the minority with this pick, but I think she looks fantastic.
I feel like my theme of the day is "Okay but hear me out...". This is another one that I think could have probably been a bit better from a structure standpoint (her boobs kind of look like they're being held for ransom), but this color on her/those earrings/that head styling = a win.
Blah blah blah they all looked great let's get to the real reason we're all here today.
Congregants? Please rise for the
WRETCH.
Yeeeeeeeaaaaaaahhhhhh I know. I went back and forth on this a LOT. Here's what I ultimately decided: Jessica Biel is such a striking siren of a human being with an abnormally beautiful face and body that she's tricking us into liking a garment that is...just pretty tacky, if we're all being honest with ourselves. That train is picking up all kinds of lint and cat hair. I don't even know if she has a cat, but you know there's cat hair in there. I don't mind the top half, but the bottom half is bad. I did have to cover up her head to reach that conclusion, though, because Jessica Biel's face is impossible to resist.
It is actually impressive that a dress in which the lines on the bodice are designed to make the wearer appear shapely could end up looking like a big, blocky-ass Gumby. That is not a slam about Samantha's bod, that is a slam to whoever designed this thing. It is unflattering in the worst way, and the center split only makes it worse. I wanted to like it, Samantha Bee. I did. But I do not.
What I am about to say is blasphemous because Jane Fonda is a QUEEN AMONG QUEENS and I will do penance for it later, but....JaneyouaretoooldforthatdressandthathairstyleI'msosorryI'llseemyselfout.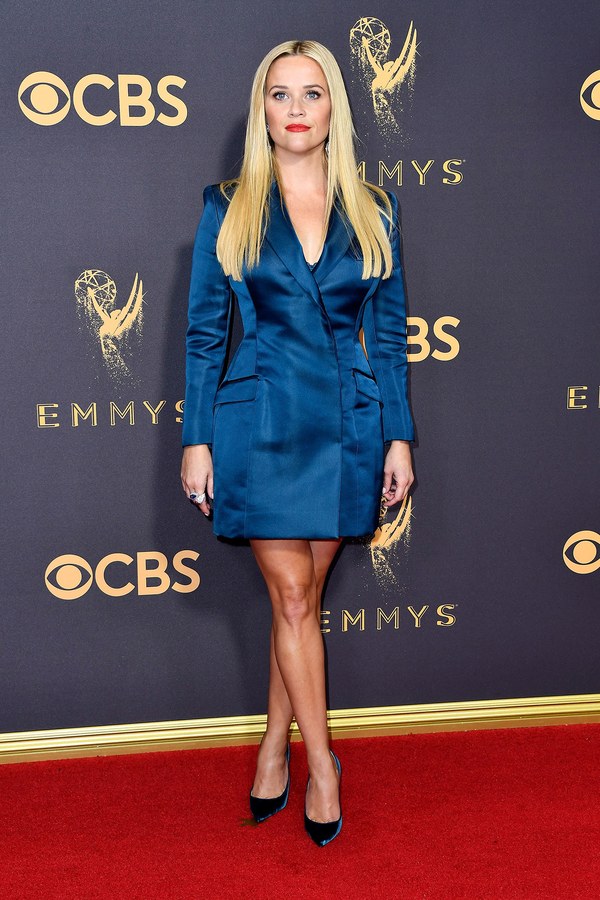 Another one that I really debated on. I mean, first we just need to acknowledge that homegirl looks like she hasn't aged a day since Elle Woods. Those legs? That skin? Gimme a break, she looks incredible. I just don't care for the oversized-men's-blazer-as-a-dress look. I even have to give props where they're due, because it's perfectly fitted to her, it's just not my favorite.
Ballerina gone wrong. I get the irony of wearing a very twee color/style to an awards show at which you're being honored for playing a feminist resistance leader, but this is just too damn close to her skin tone. It looks like she made a dress out of twin. Also, it doesn't really fit. But congrats on the Emmy! (Also you are a Scientologist and it makes me so sad.)
EXPLOSION AT THE TEXTILE MILL! Brave Ellie Kemper ran back into the mess on a rescue mission, but didn't make it out unscathed. Kemper suffered an electric shock while trying to dismantle the Old Lady Lingerie Machine, resulting in permanent Miss Frizzle Head and scores of cheap blue fabric welding to her own skin. Kemper was forced to wear this look to the 2017 Emmy's and her handlers ask that no one say anything about it. She is a hero.
WE'VE SEEN IT. WE'RE BORED.
Not the night for ladies in emerald green. Great color on her, absolutely terrible everything else. It looks like the dress Cinderella is wearing after the stepsisters come and tear it to pieces on their way to the ball. And girl? Ya got bugs.
It's not fair, but I just HATE IT.
A couple more categories...
Bitch Stole My Look!
And finally,
SLAY. ALL. DAY.